ESP LTD Eclipse EC-1007

Loaded with an EverTune bridge, this single-cut shred monster is bound to keep your djenty riffs in check. It features set-thru construction, a Macassar ebony fretboard, EMG active humbuckers, and thin neck profile.
$1,399 street
espguitars.com
Ibanez Axion Label RGD71ALMS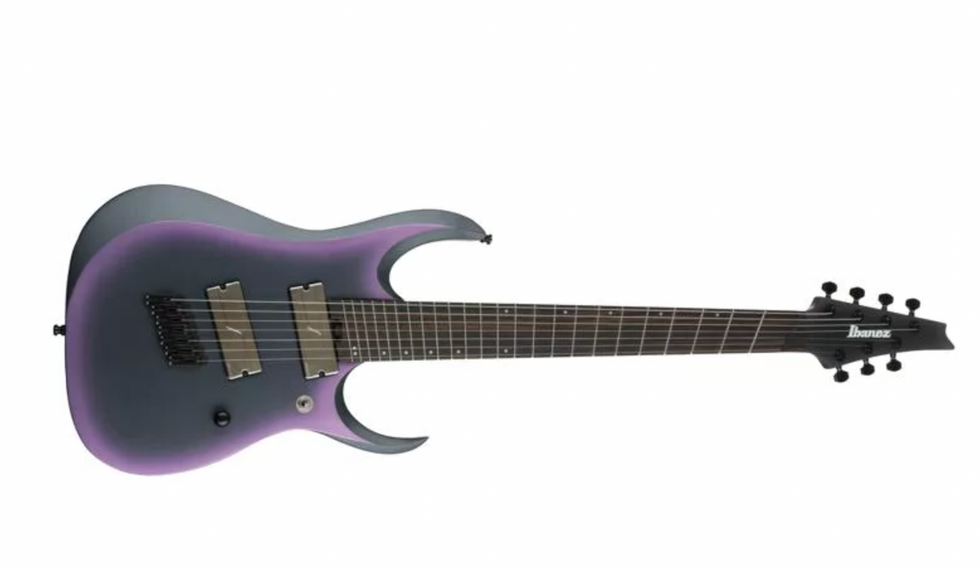 Powered by a set of Fishman Fluence Modern humbuckers, this multi-scale 7-string keeps things dead simple with only a master volume and pickup toggle plus two different voices via a push-pull knob. Its Wizard-7 neck shape is ready for speed.
$1,199 street
ibanez.com
Jackson Pro Series Soloist SL7A MAH HT

This modern take on a 7-string houses a pair of Seymour Duncan Distortion 7 pickups along with 24 jumbo frets, a compound radius fretboard, and a mahogany body with an ash top. And dig the new take on the pearloid piranha-tooth inlays.
$1,299 street
jacksonguitars.com
Ernie Ball Music Man JP15 7
Legendary prog-metal shredder John Petrucci's latest signature model 7-sstring is built for speed and chugs. It's loaded with custom DiMarzio Illuminator pickups, a piezo bridge pickup, and an onboard gain boost.
$3,999 street
music-man.com
Strandberg Boden Prog NX7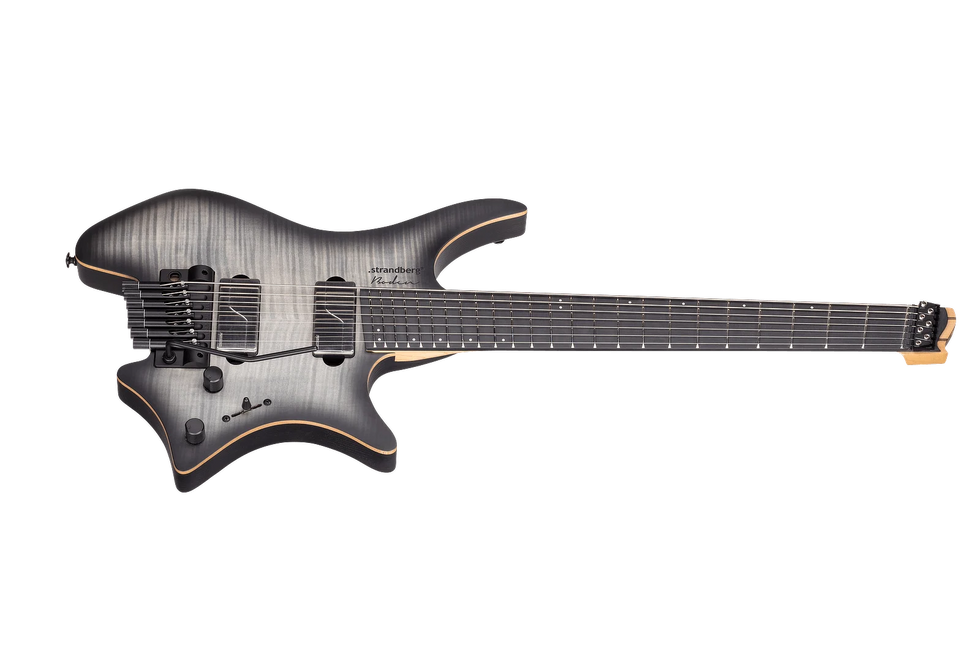 Looking for a guitar with untraditional style? This headless 7-string is an ergonomic wonder. It comes with Fishman Fluence Modern humbuckers, a sassafras body, a multi-scale Richlite fretboard, and the company's EndurNeck profile.
$2,495 street
strandbergguitars.com
Epiphone Matt Heafy Les Paul Custom Origins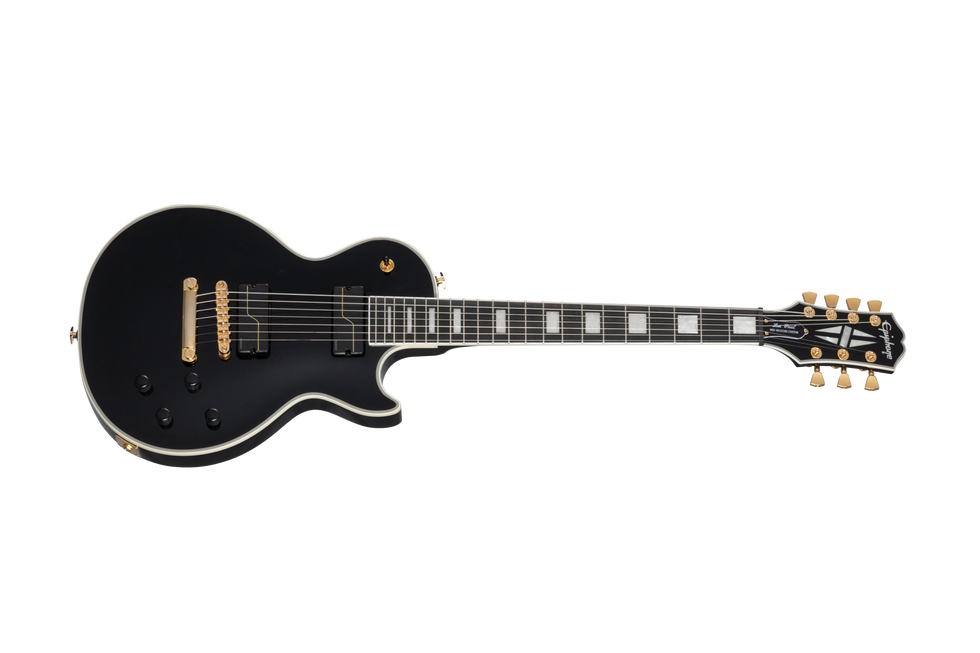 The third collaboration between Epiphone and the Trivium frontman is undoubtedly metal. Each guitar sports a pair of Heafy's signature Fishman Fluence humbuckers (with three voices), a SpeedTaper D neck profile, gold hardware, and Les Paul Custom cosmetics.
$1,099 street
epiphone.com
Caparison Guitars Dellinger 7 Prominence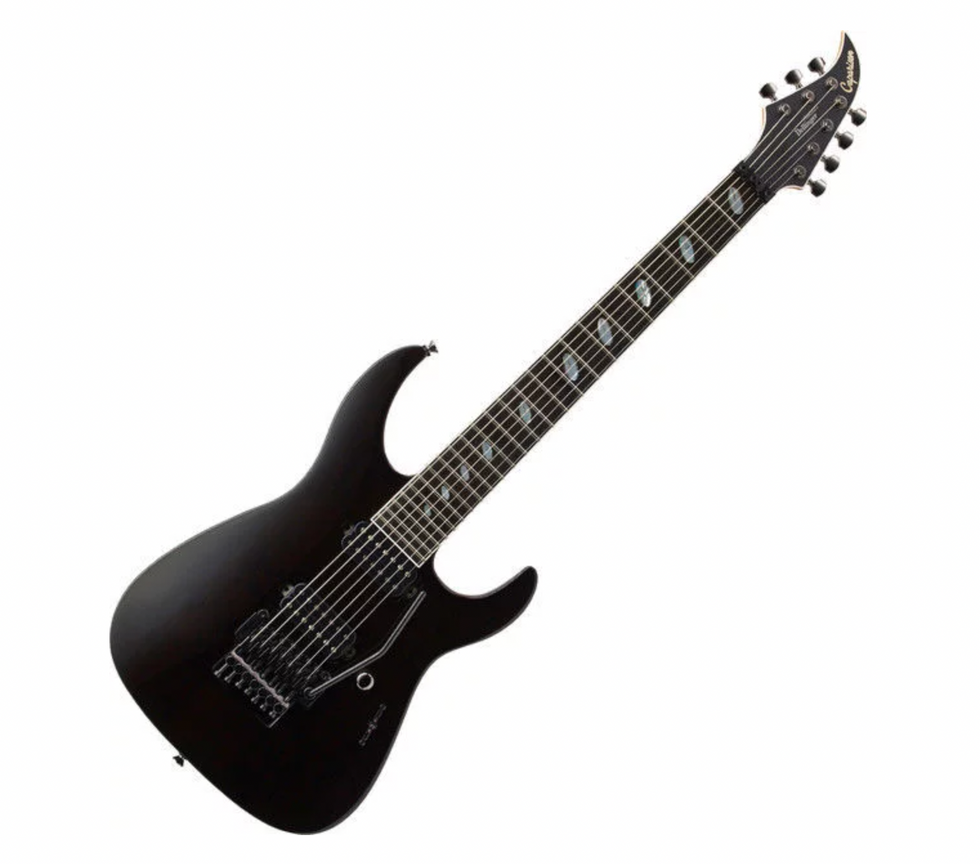 Built with a carved mahoghany-maple-mahoghany body, this 7-string can be customized with either a Schaller or Floyd Rose bridge and is available in three different colors. It also has a 5-piece maple and walnut neck, 25.5″ scale length, and custom Caparison pickups.
$3,699 street
caparisonguitars.com
Charvel DK24-7 NOVA Angel Vivaldi

Building upon a modified Dinky body, this signature model comes in satin sage green or black with gold hardware. Dig the reversed Fender headstock and the pair of DiMarzio pickups (Air Norton in the neck and Tone Zone in the bridge). The five-way switch also offers standard and parallel pickup options.
$1,749 street
charvel.com
PRS SE Mark Holcomb SVN
As 33.3 percent of Periphery's guitar army, Mark's latest signature model is an affordable update that comes loaded with his signature Seymour Duncan passive humbuckers, a push/pull knob for single-coil tones, and a newly designed violin-top carve.
$1,099 street
prsguitars.com
window.REBELMOUSE_LOWEST_TASKS_QUEUE.push(function(){
function setCookie(name, value, expires) { var cookie = name + "=" + value + "; path=/; domain=." + location.hostname.replace(/^www\./i, "");
if (typeof expires !== "undefined") { var now = new Date(); now.setTime(now.getTime() + expires * 24 * 60 * 60 * 1000); cookie += "; expires=" + now.toUTCString(); }
document.cookie = cookie; }
function getCookie(name) { var cookies = document.cookie.split(";"), toReturn;
for (var i = 0; i < cookies.length; i++) { var cookie = cookies[i].trim(); if (cookie.indexOf(name + "=") === 0) { toReturn = cookie.substring((name + "=").length, cookie.length); } } return toReturn; } (function() { var pageviewCount = getCookie("pageviewCount"); if (typeof pageviewCount === "undefined") { pageviewCount = 1; } else { pageviewCount++; } setCookie("pageviewCount", pageviewCount, 30); })(); }); window.REBELMOUSE_LOWEST_TASKS_QUEUE.push(function(){ var onWindow = function(event, callback) { if (typeof window.addEventListener !== "undefined") { window.addEventListener(event, callback, false); } else { window.attachEvent("on" + event, function() { callback.call(window); }); } }; var onWindowLeave = function(callback) { onWindow("mouseout", function(originalEvent) { var event = originalEvent ? originalEvent : window.event, element = event.relatedTarget || event.toElement; if (!element || element.nodeName === "HTML") { if (typeof callback === "function") { callback(); } } }); }; onWindowLeave(function() { dataLayer.push({ "event":"exit_intent"}); }); }); window.REBELMOUSE_LOWEST_TASKS_QUEUE.push(function(){ !function(f,b,e,v,n,t,s) {if(f.fbq)return;n=f.fbq=function(){n.callMethod? n.callMethod.apply(n,arguments):n.queue.push(arguments)}; if(!f._fbq)f._fbq=n;n.push=n;n.loaded=!0;n.version='2.0'; n.queue=[];t=b.createElement(e);t.async=!0; t.src=v;s=b.getElementsByTagName(e)[0]; s.parentNode.insertBefore(t,s)}(window, document,'script', 'https://connect.facebook.net/en_US/fbevents.js'); fbq('init', '2443260782583307'); fbq('track', 'PageView'); });